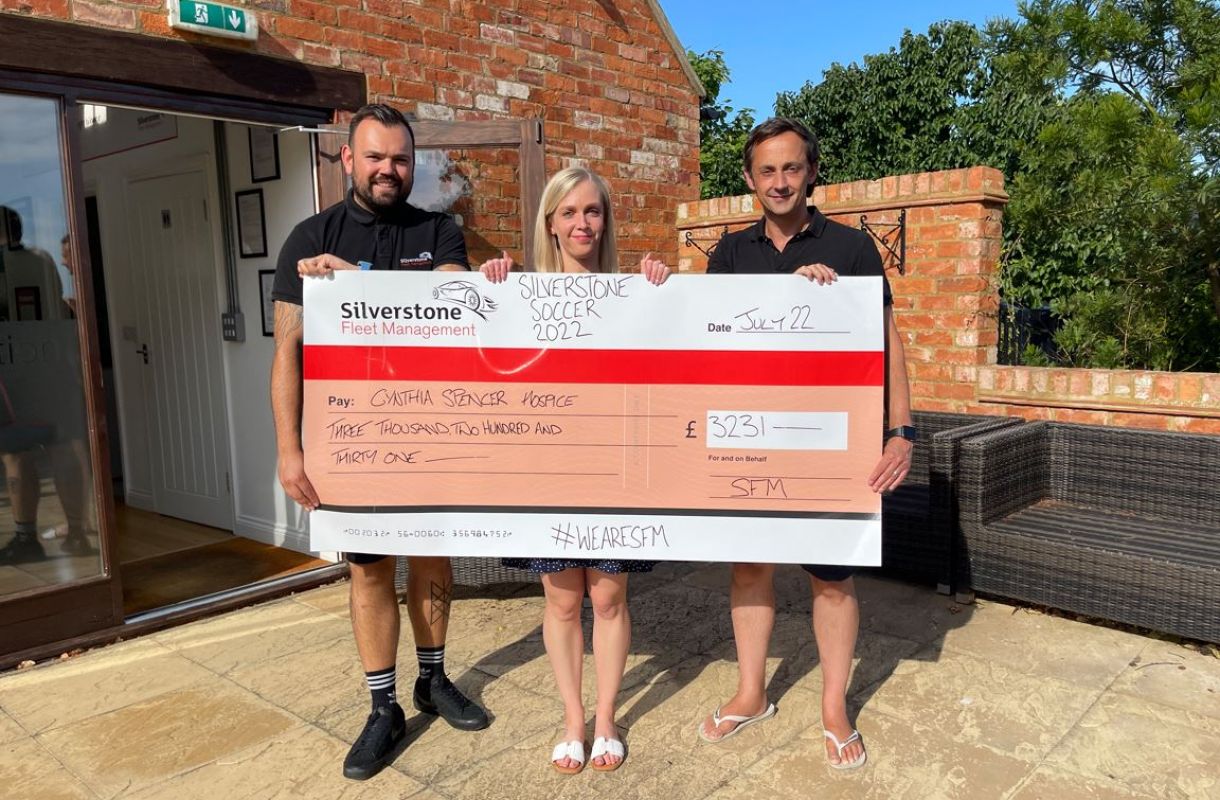 Posted in
Silverstone Soccer; Charity
On
12 August, 2022
By
Scott Norville
Soccer hat trick raises record amount for hospice
Silverstone Soccer hat trick raises record amount for hospice
Three was the magic number for Silverstone Fleet Management at their third annual five-a-side football fundraiser, which raised a record £3,231 for Cynthia Spencer Hospice.
Businesses from across Northamptonshire donned their football boots for the hattrick event at Daventry Football Club, which saw 10 teams compete for the much-coveted winner's title.
Euro Building and Maintenance Contractors scooped the title and the trophy after an impressive pitch performance, with Ox Seven Talent Partners taking the runners up position and their goalkeeper being named player of the tournament.
The popular football fundraiser, which has become a much-loved yearly calendar entry, is the brainchild of Ryan Bishop, sales manager at Silverstone Fleet Management.
The self-confessed football fanatic decided to use his local business contacts and love of football to raise much needed funds for the hospice for the first time at the beginning of 2020.
Ryan was delighted by the incredible response from the Northamptonshire business community and the impressive amount of money raised, which motivated him to make it an annual event.
The first event raised over £1,000 and the fundraising target has climbed each year since, with a staggering total of more than £3,000 in the most recent tournament, which was sponsored by Wilson Browne Solicitors.
Some teams, such as YMD Boon, have played in all three events.
The vehicle leasing company's nominated charity of the year, Cynthia Spencer Hospice, are hugely grateful for the invaluable support.
Ryan said: "It is our absolute pleasure to be able to raise much needed cash for the fantastic Cynthia Spencer Hospice. The tireless work they do really makes a huge difference to so many local families who are facing heartbreakingly tough times.
"Our Silverstone Soccer event has now raised more than £5000 over the past three years through a fun football fundraiser which is both a joy to organise and participate in. It was great to get everyone together to network and have fun.
"Thank you to everyone who came along to the event and dug deep in their pockets to donate and to our sponsors Wilson Browne Solicitors. I am over the moon that we've again managed to smash our fundraising target and collect such an impressive donation for the hospice."